Russian economy on new tracks
Introduction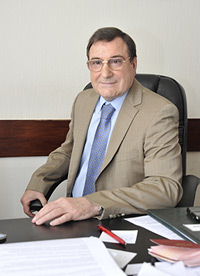 Geert Janssens – chief economist of VKW Metena – last week did attend an international congress in Moscow and witnessed some interesting aspects of the Russian economic development. During a conversation with Mr. Vladimir P. Strashko, vice-president of the Chamber of Commerce and Industry of the Russian Federation, it became clear that Russian leaders are taking a lot of initiatives to bring the economy on new tracks of innovative growth.
EXPOCENTRE
The Russian economy recovered remarkably well from the 2008-2009 recession and when you walk through Moscow you get the impression that the city is doing very well. Vivid activity and fast moving business people making their way, suggests a genuine ambition. With a growth rate of 4% the Russian economy is well on track this year. In order to preserve this strong growth rate in the long term, a lot of initiatives are taken, states Mr. Vladimir P. Strashko, vice-president of the Chamber of Commerce and Industry of the Russian Federation. One of them, for instance, was the '5P Expo' convention that took place in Moscow at the beginning of June and was organized by the Chamber and the Russian exhibition operator EXPOCENTRE. The convention gathered the best exhibition and event service providers from all over the world and hosted the annual meeting of IFES, to which also VKW Metena was invited. IFES is the International Federation of Exhibition and Event Services and was very happy to be welcomed by their Russian colleagues.

'The Russian Chamber of Commerce, advocates initiatives like the '5P Expo' very much because it brings together a lot of expertise and knowhow about how to build exhibition stands and how to improve the performance of such stands', states Mr. Strashko. It is one way to bring the many positive developments in the Russian economy to the forefront and to set the stage for new business opportunities. The final goal must be to enhance the range of services and their quality. 'The RF Chamber of Commerce and Industry is well in favor of innovation in this respect and advocates initiatives that enhance the success of exhibitions' says Mr. Strashko. 'It is not a coincidence that the Chamber patronages more than 135 exhibitions which it considers from all kinds of different angles, including innovative ones. Also the development and dissemination of knowledge about exhibition activities is very welcome because it can give a boost to the commercialization of new activities and ideas'.
Innovative Industry
These kinds of activities can help Russia to build a new economy within classical industrial branches. Last April, the RF Chamber of Commerce and Industry, for instance, organized the event 'Russia innovative', which was dedicated to the innovativeness of the industry and exposed Russia as a country of creativeness. The event hosted 7 different exhibitions which helped to expose the country as an innovative international power. An important role in innovative economic development is prescribed to a new project launched by the Chamber and EXPOCENTRE – IP Forum 'Expopriority'. To Mr. Strashko is important to see that by doing this Russia puts itself on an international map of countries with a bright future.

But in order to develop a high value-added industry, more is needed. A really pioneering initiative is the so-called 'Skolkovo Innovation Centre' who concentrate international intellectual capital, thereby stimulating the development of break-through projects and technologies. The 'Skolkovo' are a kind of sophisticated incubation centers. Just outside Moscow, this high-tech business park is growing out to an attractive resort of creativeness. After an accurate selection process, the most promising initiatives will get all the assistance necessary for their further development. Today, five major clusters have been selected: information, biomedical, energy efficiency, nuclear and space technology. 'The government officially supports the 'Skolkovo' very much and welcomes the development of new businesses and projects it incorporates; the Chamber has a long-term agreement on partnership with 'Skolkovo' as well, underlines Mr. Strashko. 'In this environment new entrepreneurial activity meets in an open mind of mutual cooperation with promising ideas, technicians and capital. Very often universities are also involved.'
Coming to Russia
Apart from internal industrial development, the Russian government welcomes foreign direct investments. 'Russia did a lot of effort to enhance the climate for attracting new investment, says Mr. Strashko. On the other hand, he emphasizes that also Western companies should do a better job when they to come to Russia. Mr. Strashko advices foreign candidates to operate in three steps.

First of all, companies have to rely more often on help from their Embassies and Consulates to make doors go open. Economic diplomacy can indeed be a very fruitful way of getting food on the ground in Russia. Secondly, the RF Chamber of Commerce and Industry keeps very tight relations to the Embassies and Consulates of the Russian Federation abroad, has a network of its own representations, so it can also be of major importance.

Thirdly, like the IFES annual meeting demonstrates, also sectorial organizations can have very effective international networks of their own. In fact, events like these make it easy for international business representatives to be physically present in a productive and pleasant way.

We can acknowledge this fully. VKW Metena was positively surprised by the success of the convention as well as the openness of the Russian hosts.
Author: Geert Janssens, Chief Economist of VKW Metena (Belgium)
---